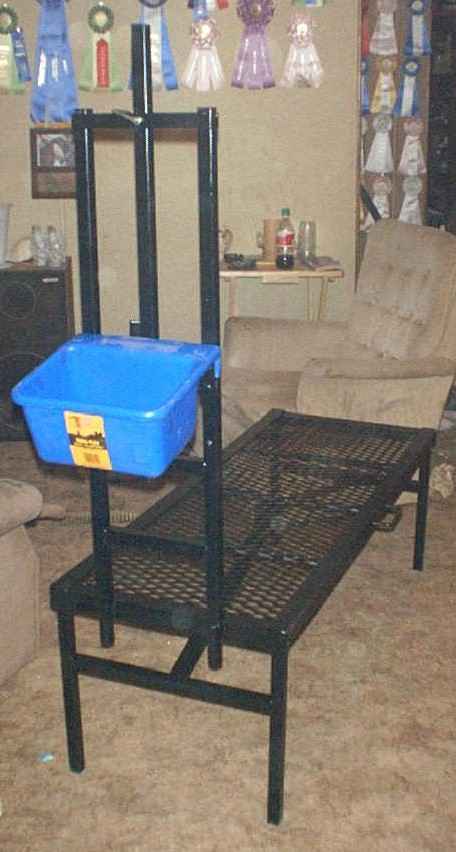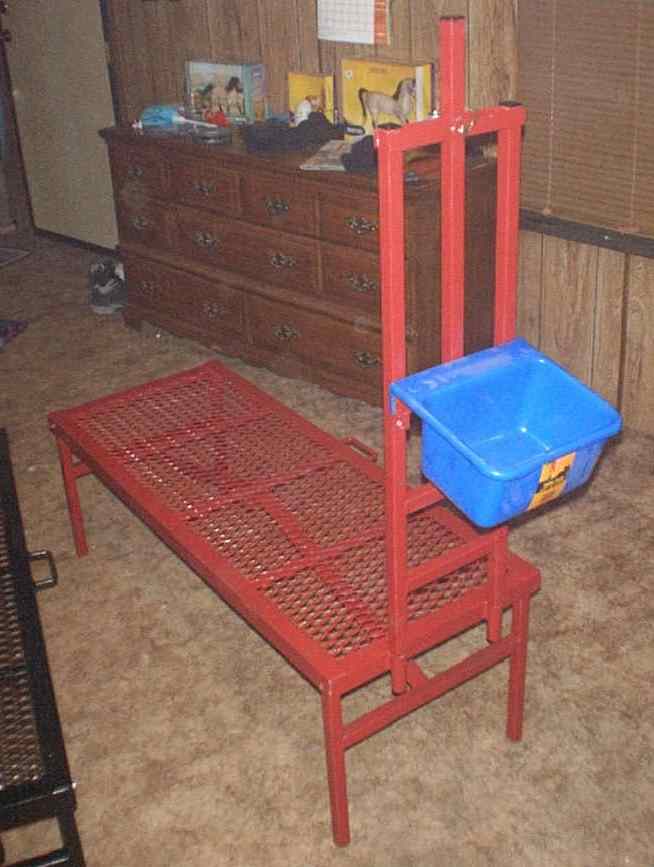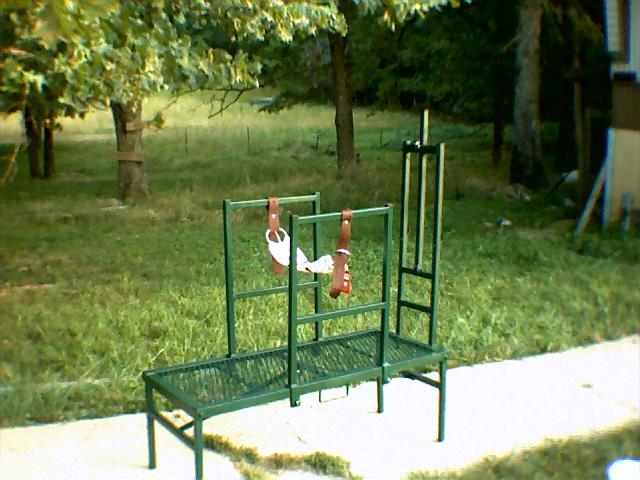 Rojae Farms custom made goat milking / fitting stands are 49" x 19" x 16" set up and fold down for easy storage and portability on those long show weekends. These stands are durable and look good whether you are in your barn or the barn at nationals.
The headgate is streamlined to promote fitting in the stand with only one bar to get in your way you can get those cranky hard to clip does. I also clip my 300 lb Champion LaMancha buck Destiny on my stand.
Stands are easily customized for mini milkers too. If you have minis as well as standards the feeder can be moved to accommodate their height as you milk. You have only to tell us.
Stands are shown in red and black and green, but we can paint them almost any color. We paint them for you, so please specify color.
NEW ITEM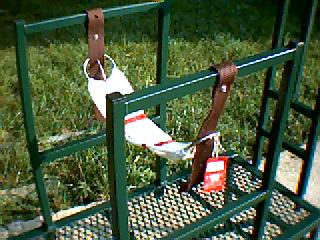 We now offer the AI attachments to go with our already popular stands. These Attachments attach easily to the stand and tighten with your fingers. There is no holes to hold you back so the adjustability is outstanding. They even go low enough for your mini's as well as maxi's for you breeders that have both.
The rails double as retaining gates for safety while milking, fitting, or trimming feet.
And last but not least, they will fit on most of our competitions stands as well. So even if you did not purchase your stand from us, you can still take advantage of our lastest item to be added. Be sure to look at the base of your stand if yours has angle it will work, I am looking and will be noting brands that are not compatable as I find them, so if yours is or is not please e-mail me so I can get accurate information and stop any confusion before it even starts.
How's that for versatility?
Stand only.................$195.00
Stand with AI Kit.....$250.00
AI Kit only..................$65.00
PRICES DO NOT INCLUDE SHIPPING AND HANDLING
We ship UPS, and USPS Call or email with your zipcode for shipping rates.
We have added a rate caculator for your use, see the link below.
What some customers are saying about our stands..............
Hi, Arjae,
I tried to email you when I got the milking stand. Your email bounced at that time. I was going to tell you how much I like it! Looks good, works great! Thanks!
Ellie
Hello,
Just a quick note to thank you for the wonderful milk stand. It is better than I thought it was going to be. Very simple to put together, my 12 year old can do it without any help. That is a plus. I have printed some copies of your web site so I can pass it on to others that are new to this hobby and are looking for equipment. Again Thank you for the opportunity for a high quality product at a working woman's price.
Linda and Ramanda Smith
Ram-Lin Acres
Hi,
We got the stand today and we are very pleased. Thanks so much for getting this done so well and in such good time.
Sue
Arjae Sicley
RT 3 Box 3541
Alton, MO 65606
417-778-7312
E-Mail
Hay Feeders
Rate calculators for USPS and UPS