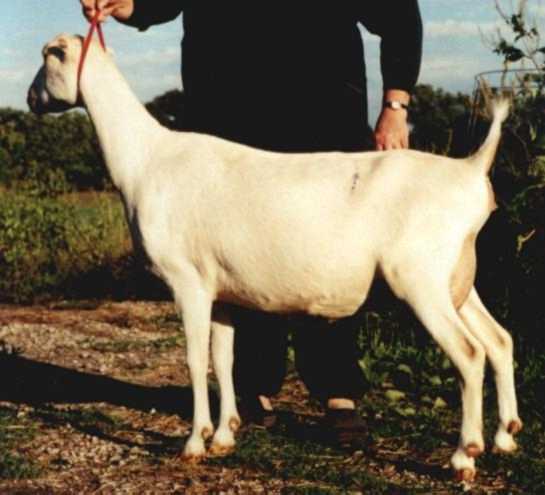 1999 is Babeís 75%LaMancha daughter by Gent. Chosen Reserve All American as a Senior Kid, still we continued to be astounded as Sailor placed first, time after time-- 10 times Ėwith 3xGCH and 2x RGCH to finish her Permanent Grand Championship as a yearling! She was 1st milking Grade yearling in production at WI State Fair. This comes as close to an undefeated season as you get! 1-02 219 2265 84 80 ip completes her picture of production. This yearling is averaging more than 10 pounds a day.

GCH Nickelís Pardín Me Madím 4*M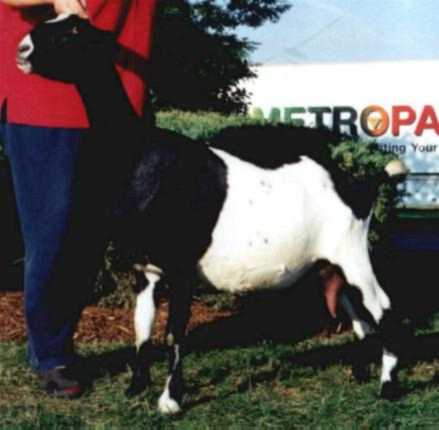 1997 2xGCH, 1xRGCH, 2x1st, 4x2nd, 1x3rd in the show ring this season ĖMadím tallied some nice wins. She certainly lives up to the 90.3 HES score she earned as a two year old last year. Do we like her 90 mammary, and her 92 dairy character? Yes indeed, and we appreciate her placing 10th in milk on the Experimental list of Top Ten USA with 2nd butterfat and 2nd protein as well. This is Madímís second appearance on the LIST in just two years! 1st milking 3 year old WI State Fair in production-- What could be better? She passes on her good points!

Her daughter GCH Nickelís Rice Cakes 5*M made her appearance on the LIST as a yearlingó10th for butterfat. A pleasant surprise for her new owners, the Nowak family in Indiana.

1-00 305 2649 138 108
2-00 305 3312 179 130
3-02 193 1448 93 86ip

GCH Nickelís Hi Babe 5*M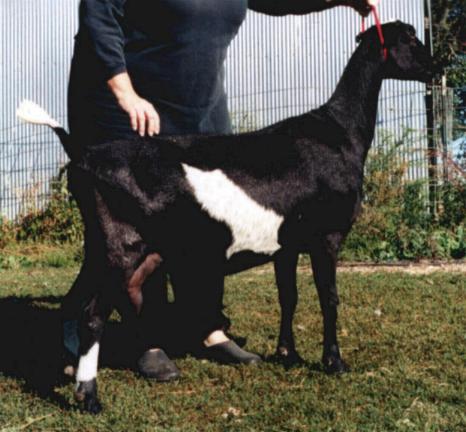 1997 is getting better as she ages. She finished her GCH as a yearling and was #2 for butter fat and #1 Breed leader for Protein that year. Named Reserve All American milking Yearling by the American LaMancha Club as well Ėwe wondered how the future would unfold. Hereís the scoop! Babe added to her trophies with a BEST IN SHOW, 1xGCH, 3xRGCH, 3x1st, 3x2nd,1x3rd. She was named Reserve All American Two year old. Her daughter Nickelís Hey Sailor 6*M finished her Permanent Grand title and was Reserve All American, too! Babe is headed for another Top Ten record with this seasonís production. She still measures up to her last yearís HES scoresó6 code ones with a 90 mammary and 90 Dairy Character 89.55 over all Excellent.

0-11 305 2536 136 123
2-00 305 3557 200 143
2-11 250 3165 148 127 ip


Bruce & Nancy Nickel
Nickel's Nubians & LaManchas
Clark, MO